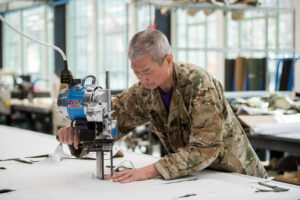 Crye Precision
Fashion / Accessories
BLDG 128
Crye Precision designs and manufactures protective equipment for our Special Operations Forces. Their products aren't just high-performance, they're combat-proven.
Back in 2002, Crye's founders came to the Brooklyn Navy Yard to build their business, starting out with lofty goals and 2,000 square feet of raw space with which to achieve them. They've since filled both. Today, Crye employs over 200 people and is expanding into 85,000 square feet at the Yard's new Green Manufacturing Center, Building 128.
All of Crye Precision's gear is made in America with American materials, outfitting nearly every service member in the U.S. Armed Forces. Their commitment to innovating for our service men and women is an apt reflection of the Brooklyn Navy Yard's own proud heritage and history.