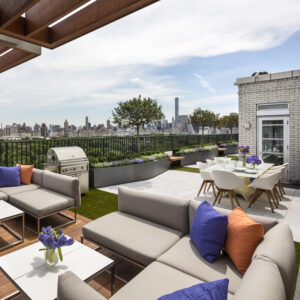 New York Decks
Contracting and Construction
BLDG 120
New York Decks is New York City's premiere builder of outdoor recreational spaces, roof decks, terraces, and roof top garden environments. Our company has built over 600 decks in the NYC metropolitan area since 1996. We offer our clients the highest standard of craftsmanship and service and are dedicated to the principle that the construction process should be a pleasurable and satisfying experience from start to finish. Our clients include individual home owners, business owners, developers, and established landscape architects.
Craftsmanship and service are built into our plans every step of the way. Stepping outside the building as well as outside the box, we incorporate deck furnishings, finishes, fencing, pergolas, planters, terraces, outdoor kitchens, and custom pieces that embrace the outdoors in ways you never thought possible.
Scan through our projects to see that our word carries through to the finished product and beyond, covering design, build, and maintenance to ensure your New York Decks project gives you years of enjoyment and pleasure. Our projects include both commercial and residential outdoor spaces.
Our Team
When we find talented employees, we hold on to them. When they find us, the feeling is mutual. More than half of our staff have been with New York Decks for between 15 and 20 years.
Rewarding performance and recognizing talent has built an exceptional team for us at New York Decks. Respect for the experience of our peers pairs well with longevity, earning New York Decks a team that synchronizes ideas, craftsmanship, technology, and creativity to deliver projects that consistently exceed expectation.
Our Services
Design:
Space and time are always in high demand. New York Decks respects the value of both and is dedicated to designs that deliver more of each. More livable space, making every square inch accountable for its aesthetic and utilitarian merit. More enjoyable time spent in the environment of your dreams. And, as a bonus, more satisfaction, because we remain committed to excellence throughout the process:
• Concept/idea generation and schematic options
• Design development
• Construction drawings, documents, and technical specifications
• Budgets, bidding, and analysis
• Construction administration through completion
Build:
We do details, and we do them well. With the bar set high on the construction and installation process, we are known for building beautiful spaces that last. Our expertise in the permitting process in this complicated city will ensure your project runs smoothly. Choosing New York Decks guarantees professional attention every step of the way:
• Site preparation
• Framing, utilities, mechanical systems
• Walkways, solid surfaces, fixtures
• Trim, finishes
• Final walkthrough
Maintain:
Beautiful spaces deserve meticulous attention once they are installed. Keeping premium outdoor surfaces polished and outdoor landscapes manicured ensures your stylish New York Deck always stands ready to impress. Our services ensure that every feature rewards and welcomes the opportunity to entertain:
• Cleaning schedules set to your preferences
• Garden care appropriate for season
• Repairs to any broken or missing details
• Refresh finishes showing age
• Replacement as needed
Our Most Prominent Projects Include:
• Pier 55
• Hudson Yards
• Arc — Long Island City
• Mercedes House