6th Annual Wallabout Holiday Market
Dates: Saturday, December 2 – Sunday, December 3
Time: 12:00 PM – 5:00 PM
Get ready for the 6th edition of the Wallabout Wonderland Holiday Market hosted by the Brooklyn Navy Yard. This year, we're taking it to a whole new level, with a fresh location and an impressive lineup of 200 vendors, community partners, and beloved Brooklyn-based businesses.
Both days are packed with fun activities for everyone, including our highly sought-after kids' zone, available for the entire weekend!
Come and explore the ideal holiday gifts, savor the flavors of the season, and immerse yourself in the spirit of Brooklyn's vibrant charm in a magical winter market extravaganza.
Mark your calendars for a fantastic weekend of holiday cheer!
This year, we are once again thrilled to be partnering with The LayOut!
PLUS our additional partners: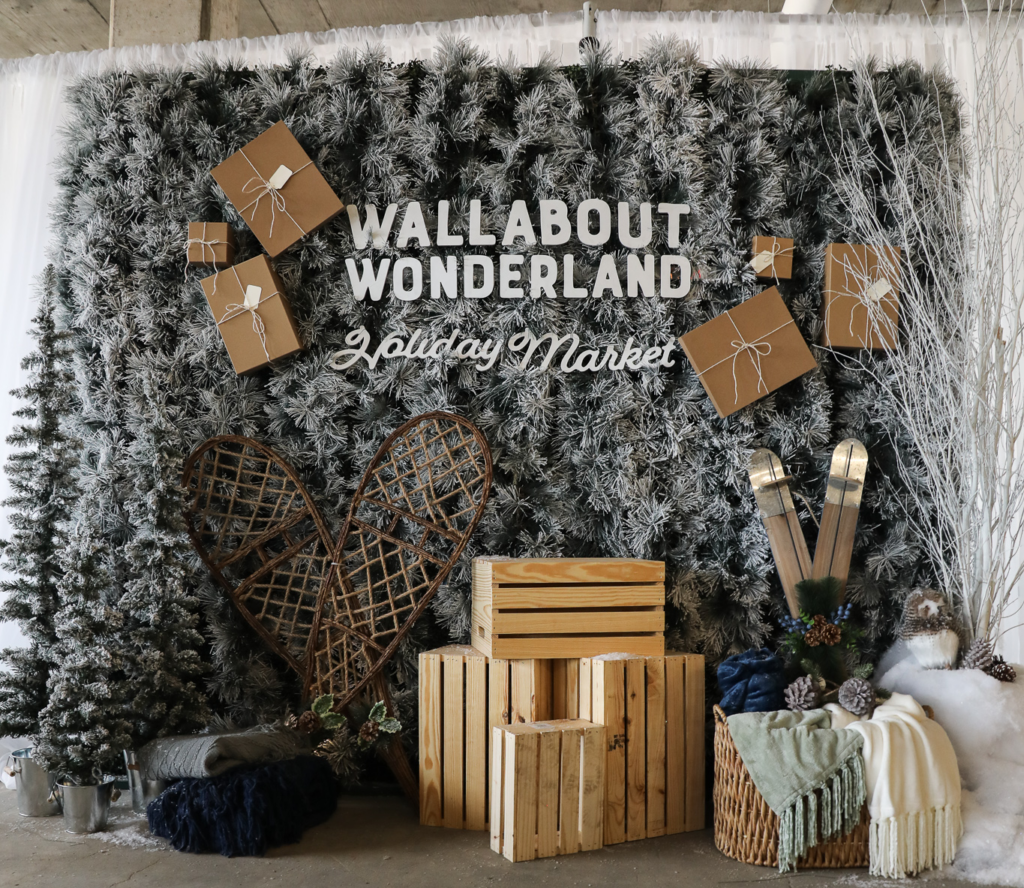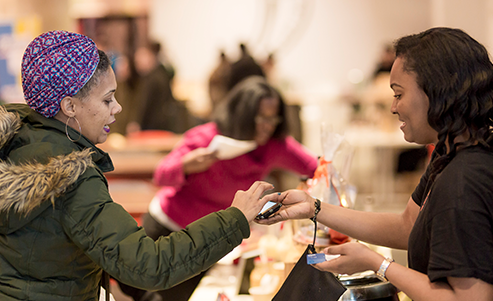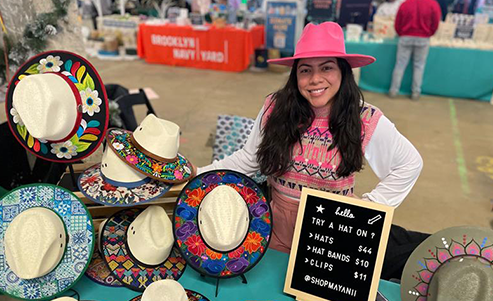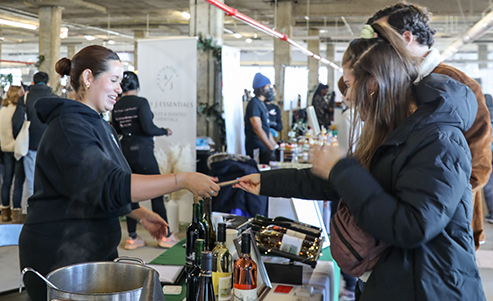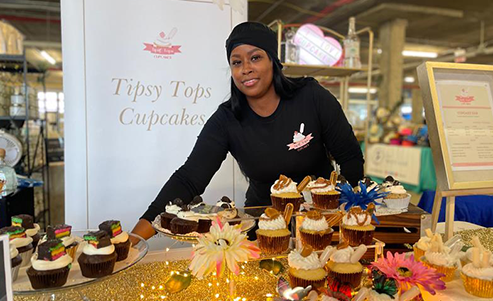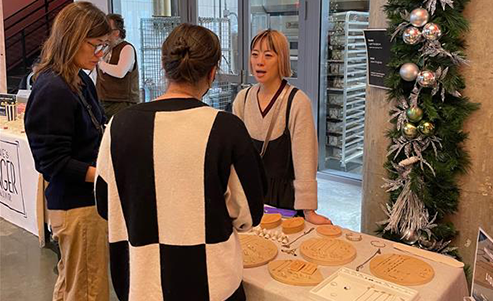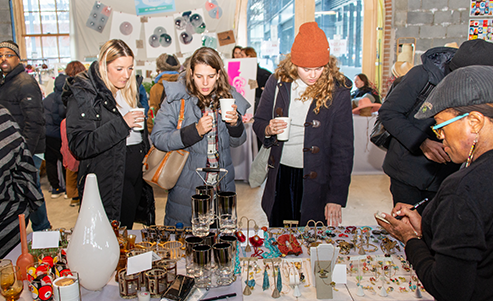 Shop Local
Enjoy a mix of handmade jewelry, one-of-a-kind home décor pieces, and rare fashion finds from local artisans and designers. Featuring 200+ vendors, the shopping section is the perfect place to pick-up gifts for everyone on your list.
Categories
Art + Design

MAJO, Finn Phillips Art & Art by Samaya, Art By Stacey Billups, Cheryl Engmann Design, Gregoire Ganter Photography, Ianthe Jackson Studio, JoyfulCreations, Kirkwood Studio, MoNoCo Design, Ramona Candy Studio, ShadowLightBinding, The Brooklyn Art Studio, and Tiffany B Chanel.

Beauty & Personal Care

a Life Balanced, Bizzee Body LLC, Bklynbarsoap, Blossoms & Bud, Brooklyn Gold, ButterSoft Essentials, HelloCues, I NATURALZ LLC, Krowned Kool, Mila The CEO, Natural Lifestyle & Wellness Brand, Scully's Wonderful Stuff, Semilotto, The Little Scent Shoppe, The PINK Effect, UltraRay, A Luxury Spa, Women Who Want More LLC, WURUS and Yara Shea Beauty.

Fashion + Accessories

Adorned By V, Amirah Creations, bEASH, Black N Ugly, Brim, Brooklyn Kings Apparel Inc, Brooklynlighthouse, Caisy's Closet, Campos Bags, Darelle Designs LLC, Del Luvra, ELTSUH, From The Arxhive, GRISÉ NYC, HipHopCloset.com, Jakadedesigns, JJ&X FASHION, JuJu Lee, KEAFRICA, KIC NYC, Maono Eyewear, MARCO BAGA, Melda Moda, Mystica, Nayobaz, NeliseNasheida Textiles, Neon Warwick, Never Settle, Ode to Us Wellness, Pop Pins NYC, R. Turbow Leather, Redsmkt, Royal Priesthood, Set Tripping, Sneaker Girls Club, Terese Sydonna, The Blacknificent, The Printing Block, Tracey Tanner, Unisa Eurani, VernonBlvd3 (VB3) and Ware of the Dog.

Food + Beverage

1 Mo Bite Cuisine & Catering, Body Coffee, Brittle and Beyond, Brooklyn Roasting Company, Brownstone Cheesecakes, Chictreatz llc, Everyday Group LLC, Flatbush Granola Company, Kekethefoodie.com, Kings County Distillery, Live Loud Foods, Maison Jar, MoodTea, Ms Delah Bees Herbal Remedies, Pressed-Coffee, Rooftop Reds, Sisters 3 Tea, Teazert Tea, Tipsy Tops Cupcakes, Transmitter Brewing, True Scoops, and Uncle Yankey's Pepper Sauce.

Home Goods + Décor

Akari Home, Ally J Essentials & Candles, American Heirloom, Ariel's Candle Shop, ATSUYO ET AKIKO, Brad Drew That, Cadash & Co., Cait.y.lin Ceramics, DeAndra Craigman Studios, DEGA CO, Deseta Design, Divergent Waters, Dope Black Woman, Everything Chriss Home & Body Fragrances, Ground-cloth, Jennwriting, Lauren Harris, Lit With Love Co., MoreFireNYC, NINEOH7, Pal's Plants Etc, Plaster Works, Say Sebastian Candle Co., Socorra Rose, Soul Flame Crystals, Studio Robyn Rock, Tamya Jones &. Co, The Herstory Studio, and Tribe & Oak.

Jewelry

84Gem, Ada Chen Jewelry, AKIKO PAULSON, Brooklyn STEAM Center Jewelry Program, Brown Sage Designs, Carrie Bilbo Jewelry, Casey Sobel, Designsbyshakeya, She-bang Shop, and Zoë's Accessories.

Unique + Innovative Gifts

18 August Ave, Adanne, Aset Intention Crystalz, Brooklyn Book Bodega, Brooklyn Workforce Innovations, By Lady Adelaide, CLIP, Cocoa Puzzles, Corage Dolls, D.S. & DURGA, Equality Education, For My Daughter Publishing, Hey Girl Hey Game, Lucy Aponte, Children's Books Author, PCDESIGNS, Renaissance Writers LLC, presents Author Renee King, Slam Duncan Wellness, Stories of a Colorful World, Strakers Closet, Tahlia's Creations, The Christmus Corner, The Estate Bklyn, Top 3! Games, Turntable Lab, Unravelingarts, Vie en Vert, and YesYesNo / Molmol Kuo and Zach Lieberman.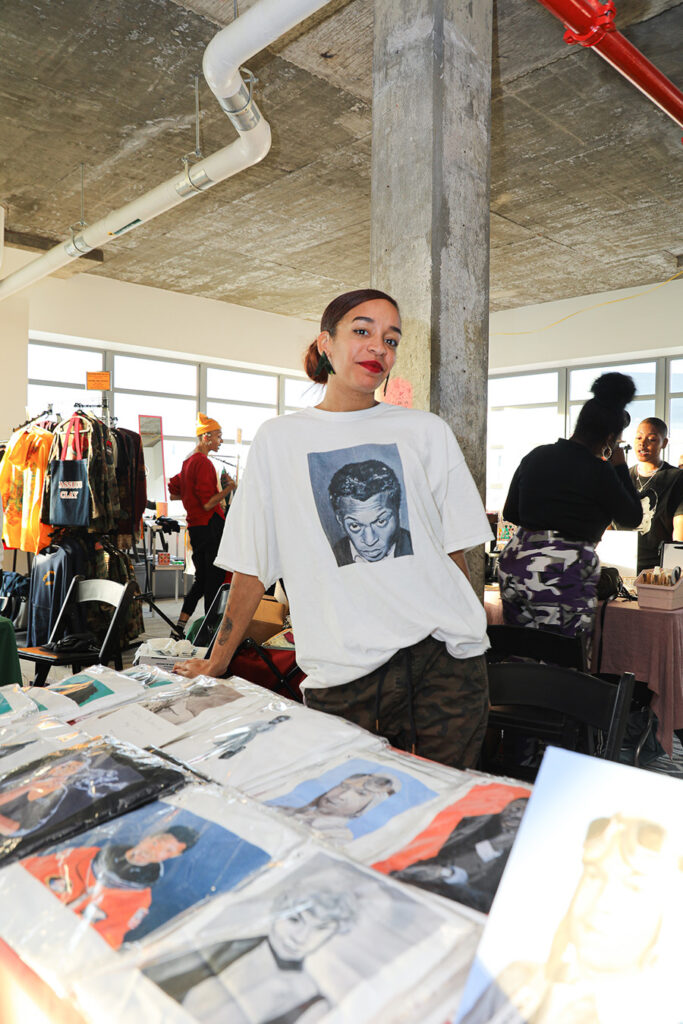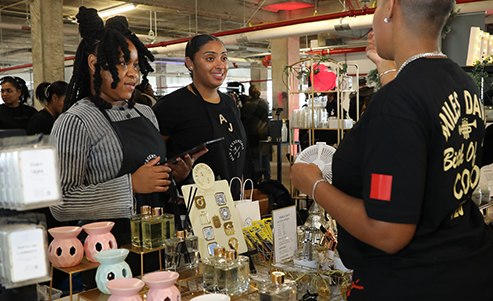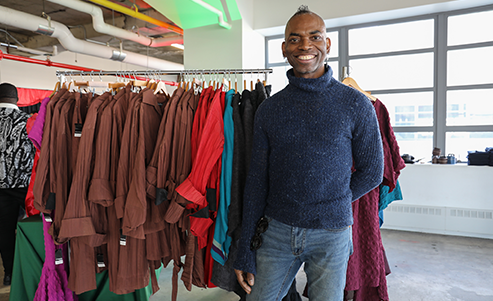 Things to Do & See
Photo Activations
Strike a Pose & Say Cheese at the different photo opportunities throughout the space.

Food Court
Delight your taste buds with Caribbean Flavors, Soul Food, Seafood & more. Please see a few below:
GG's Fish and Chips
Kevin's Vibes Caribbean Flavors
Farnum's Finest
Brooklyn Chckn & LbstrKing
1 Mo Bite Cuisine & Catering

Wallabout Lounge – The Chill Zone
Chill out and enjoy hot chocolate and hot toddies while local DJ's spin top hits

Relaxation Oasis

Creator's Row
Design unique gifts at creator's row, bring items to be customized or purchase from Tattoo'd Cloth Chainstitch to have embroidery onsite, and buy a candle from DeAndra Craigman Studios and get complimentary custom engraving from 12:00pm – 3:00pm engrave candles with your signature touch

Shipping & Wrapping Station

The Next Generation
Support youth vendors as they begin their entrepreneur journey as small business owners

Kid's Zone by Brooklyn Bridge Parents
Free activities for cookie decorating, holiday card making, lego adventures, balloon house fun, plus, Free Book Giveaways – while supplies last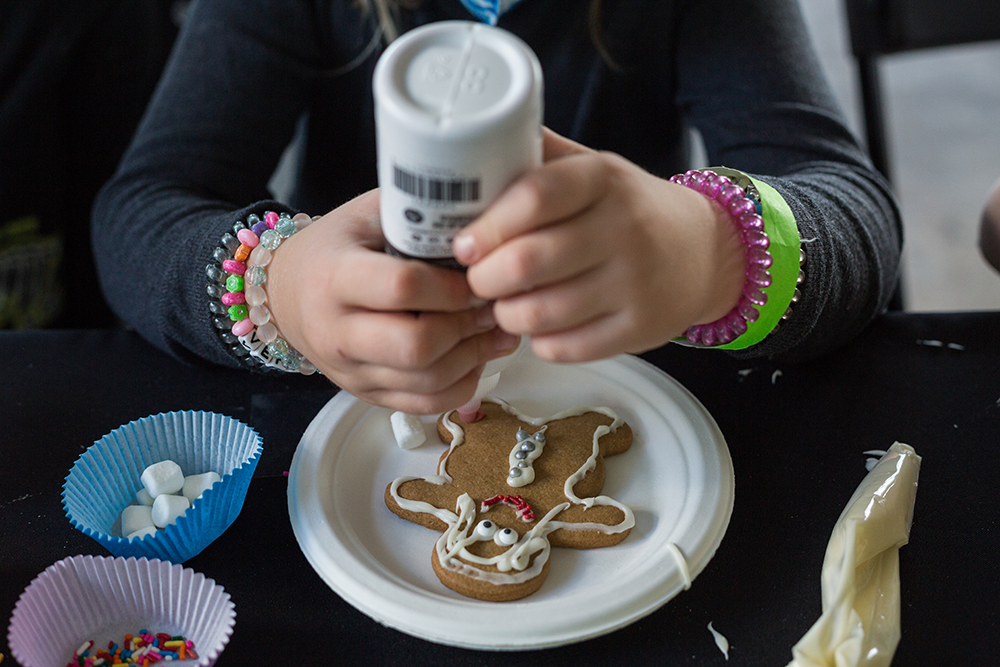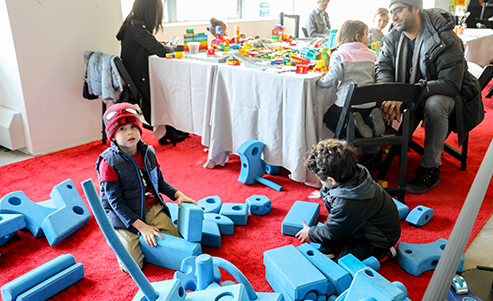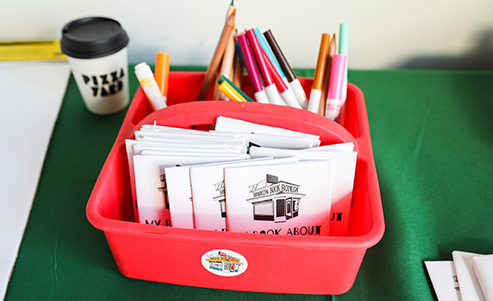 Getting to the Wallabout Wonderland Holiday Market!
Getting Here
Getting to the Yard has never been easier! This year, we're developed comprehensive shuttle bus service to get you to and from the festivities in a breeze. The shuttle service begins at 11:45 AM on Saturday and Sunday, running like clockwork every 15 minutes until the end of the event.
Here's a step-by-step guide:
Start your adventure at the Atlantic Terminal shuttle stop (at the intersection of Fulton Street and Fort Greene Place). Conveniently located and accessible by several subway lines.

 

Hop on the Brooklyn Navy Yard Shuttle: It's your enchanted chariot to Wallabout Wonderland. Sit back, relax, and enjoy the ride as it whisks you away to the holiday market.

 

Direct Drop-Off: The shuttle will drop you off directly at the holiday market – no long walks, just pure holiday magic!

Catching the shuttle from Building 77: For those acquainted with our campus and the publicly accessible Building 77, we've arranged shuttles from Building 77 to the venue. When arriving at Building 77 (at the intersection of Flushing Avenue and Vanderbilt Avenue), walk through the lobby and catch the shuttle directly behind the building on Paulding Street.
Ferry Riders: For those using the NYC Ferry service, you are able to catch the shuttle bus directly behind Building 77 to the venue (running every 5 minutes).
Rideshare: Visit the market using Uber, Lyft or your rideshare application of choice. In the search bar, type "Assembly Rd & Gee Ave" providing an exact pin to the venue location.
Parking: Exciting news—onsite parking will be available this year for $10! Please note that parking is limited; therefore, act fast and RSVP now to guarantee your parking space.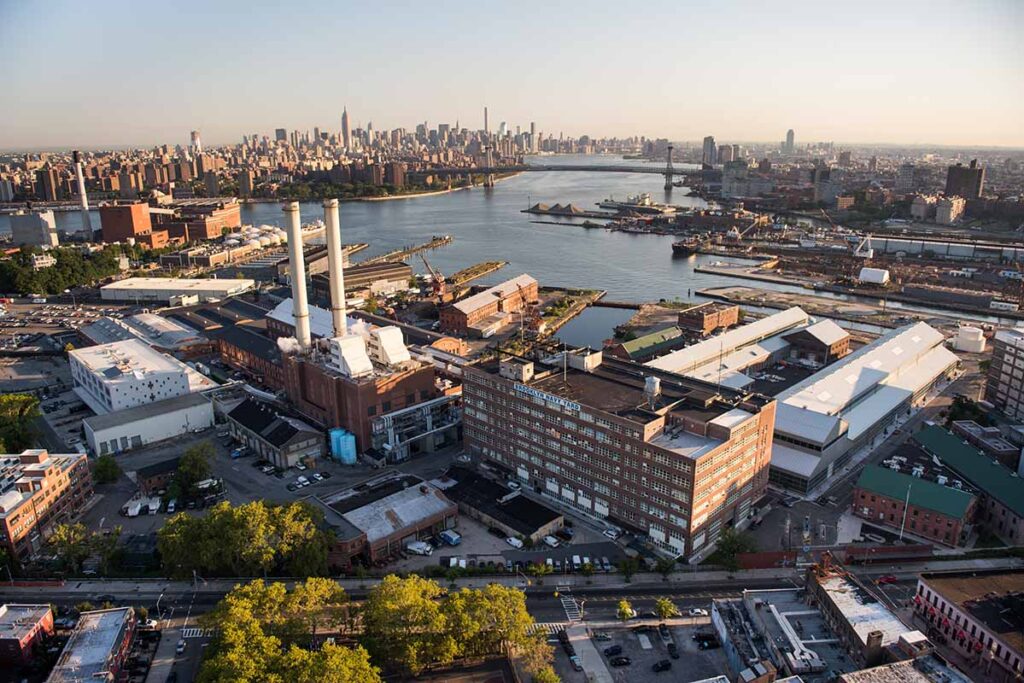 Stay up-to-date with the Yard
Sign up
Sign up here to stay up-to-date with our public programs and events happening on the Yard.
If you work at the Yard and are interested in receiving our tenant newsletter, please email businessservices@bnydc.org