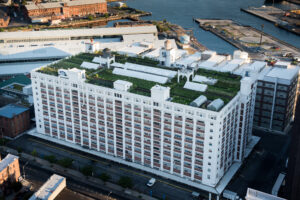 Brooklyn Grange
Food
BLDG 3
One morning in May of 2010, a ragtag crew appeared on Northern Boulevard, alighting from bicycles and emerging from the subway, assembling in the dim light outside a sprawling building. They donned hard hats and work gloves and, armed with shovels and rakes, they set out to build the largest soil rooftop farm in the world. It took six days of craning hundreds of 3,000lb soil sacks seven stories up. The hardworking crew shoveled in the sun and wind amidst the roar of motorized buggies and the shouted communications of a team single-minded in its goal. As the West end of the farm was still being measured and fit with the base layer of a green roof system, the East end was already being shaped into tidy, perfectly-spaced vegetable beds studded with tomato seedlings and chard transplants. And slowly, a farm took shape.
In 2011-2012, in partnership with the Brooklyn Navy Yard, we created our second and biggest farm atop Building 3.
Brooklyn Grange is the leading rooftop farming and intensive green roofing business in the US. We operate the world's largest rooftop soil farms and grow over 50,000 lbs of organically-cultivated produce per year. In addition, we:
Maintain over 40 honeybee hives throughout the five boroughs for our own honey production and for clients wanting their own hives.
Design, Install, Consult on greenroofs, landscaping, and greenwalls.
Host weddings, dinners, and events of all kinds.
And partner with numerous non-profit organizations throughout NYC to promote healthy and strong local communities.
http://www.brooklyngrangefarm.com