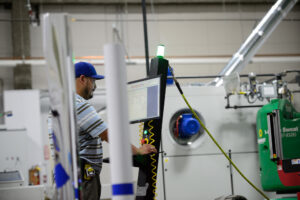 Duggal Visual Solutions
Printing / Engraving
BLDG 25
Duggal Visual Solutions is a global leader in print, digital interactive media, custom displays, and LED lightboxes. With engaging design elements that defy the imagination, Duggal transforms everything from real estate, retail stores, and hotels, to museum, sports, and entertainment venues.
More than a decade ago, Duggal moved its operations from downtown Manhattan to the Brooklyn Navy Yard, leasing 20,000 square feet. Today, it occupies over 200,000 square feet across five buildings and has established itself as an integral part of the Yard ecosystem, offering its capabilities and services to many of its neighboring tenants.
At the forefront of new technologies, Duggal's expertise includes 3D printing, packaging comps, and design services. Its remodel of Building 25 has turned the site into the only LED Gold-certified printing facility in the world. And its gut-renovation of Building 268, the Duggal Greenhouse, has provided the Yard and greater Brooklyn community with a premier live event space on the East River.