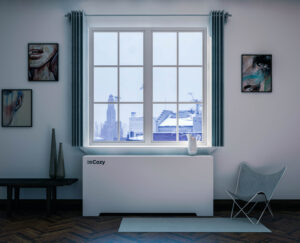 Radiator Labs
Other Manufacturing
BLDG 3
The U.S EPA estimates that 30% of steam heat is wasted, translating into more than $7 billion in annual waste. Steam heat upgrades can help reduce energy waste, save money, increase tenant comfort, and improve overall building performance.
The Radiator Labs Cozy is a smart, insulated radiator cover that reduces overheating in steam-heated buildings. The Cozy system reduces energy costs by an average of 25% while providing residents with room-room temperature control. In addition, Radiator Labs delivers real-time temperature data to building owners & managers through an online dashboard. This data has been used to identify building-wide issues such as blocked vents, infiltration and
insulation issues, boiler malfunctions, and faulty zone valves – saving building management and residents a lot of time, money, and frustration.
Co-founders Marshall Cox & Professor John Kymissis came up with the idea of the Cozy while Marshall was living in overheated graduate student housing at Columbia University. After a year of initial testing in Marshall's apartment,
Marshall competed in – and won – the Grand Prize at the 2012 MIT Clean Energy Prize. Radiator Labs has since received several awards for its innovative technology, and has been featured in the New York Times, Commercial Observer, among others.
The company now operates in building 292 at the Brooklyn Navy Yard.