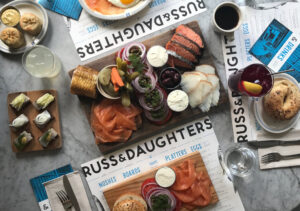 Russ & Daughters
Food
BLDG 77
Brooklyn Navy Yard's Building 77 will soon be a dining destination, serving up smoked fish, caviar, bagels, and bialys — thanks to beloved New York City institution Russ & Daughters. The historic Jewish store, in business for over 100 years, is set to anchor the building's new food production hall, offering breakfast, lunch, takeaway, and on and off-site catering.
Drawn by the food production hall's vast space and unique potential, Russ & Daughters will occupy 14,000 square feet of Building 77's ground floor, where it will center its bakery, production, and nationwide shipping operations. Russ & Daughters also expects to bring 30 new jobs to the Yard.
With a history as rich as the Brooklyn Navy Yard itself, Russ & Daughters is not only a natural fit, but an exciting partner we look forward to working — and eating — with.
https://www.russanddaughters.com/